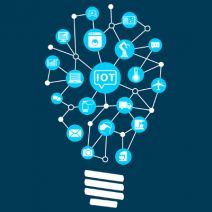 The Internet of Things is one of the many technical innovations that is having a major impact on the way that both consumers and businesses view certain types of technology. With so many devices connecting to the Internet and communicating with one-another, businesses need to ask themselves what they can consider an Internet of Things device, and what they can do to protect sensitive information.
---
For the purposes of your business, you can consider the Internet of Things to be a group consisting mostly of consumer-based devices that wouldn't normally connect to the Internet. These devices have both the ability to connect to an online environment, and communicate with others in their vicinity. Gartner predicts that there will be approximately 26 billion Internet of Things devices by 2020, with other aggregates claiming as many as 30 billion. While these numbers may seem astounding, it's important to remember that many of these devices are likely to be small and relatively inconsequential. For example, fitness-related wearables that monitor heart rate or physical health are common IoT devices, and this is just the tip of the connected iceberg.
Some of the more complicated Internet of Things devices include security cameras, small household appliances, smart vehicles, thermostats, refrigerators, and so much more; many of which can be controlled or monitored via a smartphone app. In some industries, the Internet of Things is an invaluable tool, allowing for organizations to improve their operations considerably. Take, for instance, these examples of how the IoT has been applied to specific industries:
Manufacturing: Manufacturing plants take advantage of IoT devices that monitor progress and product assembly, mostly for automating process controls, safety features, and security measures. Basically, many manufacturing plants rely on IoT devices to ensure proper functionality.
Energy management: Manufacturers are using IoT devices to monitor energy inputs and outputs. This helps them to control the maximum amount of energy that can be used at any given time, allowing for optimal savings. Many of these devices allow for remote control or cloud-based access.
Medical and healthcare: For medical purposes, IoT devices can remotely monitor medical equipment for specific information. For example, pacemakers and insulin pumps can be remotely monitored to ensure that vital bodily functions and equipment are working like they're supposed to.
Building and home automation: There are plenty of great IoT devices that make home automation and building control much easier. For example, thermostats, garage doors, security cameras, light fixtures, air conditioning, and so on, can all be controlled remotely via a smartphone.
Security Issues and Concerns
By definition, Internet of Things devices focus on gathering information and connecting with others. This makes them potential security problems if left unchecked. IoT devices should be kept off of your office network as often as possible in order to minimize the risk of your organization's data being unexpectedly shared. If any one device is compromised and connects to your sensitive information, you could be looking at a full-fledged data breach. This is why it's so important to both enforce a Bring Your Own Device (BYOD) policy in the workplace, as well as manage the permissions and restrictions of devices on your network.
To learn more about how your company can protect itself from the Internet of Things devices, give us a call at (703) 821-8200.