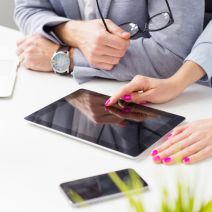 Mobile devices are important components of any modern workplace environment, and this trend is only growing more popular with time. Workers love the opportunity to use their own devices, like laptops or smartphones, and doing so is a trend known as Bring Your Own Device (BYOD). While this is a huge benefit for businesses that have trouble procuring equipment, it also presents several risks, many of which are associated with the Internet of Things (IoT).
As reported by Tech Pro Research, 59 percent of businesses currently allow the use of personal devices in the workplace. Only 28 percent of businesses refuse to let their workers use their personal devices for work purposes, and only 13 percent of business owners are planning to make the change to BYOD over the next year.
It's safe to say that this trend has caught plenty of traction, and that it's likely to continue growing in the next few years. However, the number of businesses that aren't willing to embrace BYOD do have a solid reason for not doing so. BYOD needs to be regulated on a corporate level if it's going to be allowed, and the Internet of Things doesn't help this endeavor. With so many new devices entering the market, it's no surprise that your employees might pick up a few of these connected devices for themselves.
Even if businesses don't want to embrace BYOD and the Internet of Things, they might not have a choice if workers bring their Internet-connected devices to the office with them anyway. In this case, it's best to have a plan for managing the risks of the Internet of Things and BYOD, while also permitting workers to use their own devices.
Benefits of BYOD
Bring Your Own Device presents several unique benefits for the average SMB, many of which are capable of improving your business's operations and bottom line.
Lower your up-front hardware costs: Allowing employees to use their own devices saves your business from going through the trouble of providing them with tools needed for their jobs. If they already have the hardware necessary to handle their duties, why should you have to invest heavily in providing them with the same tech?
Increase workforce mobility and satisfaction: Employees are bringing their laptops, smartphones, and other technology to the office for work purposes. This means that they can take this technology home with them, effectively allowing them to work remotely if need be. These employees can put in more hours and achieve greater productivity. Furthermore, they'll be happier knowing that they have the choice of using their own devices. Allowing your team to work on their own terms can be empowering, and it can lead to greater workplace satisfaction.
Decrease your reliance on IT for maintenance: At first, you might look at this statement and wonder how true it is, but we urge you to think of it this way; would you be more likely to take care of a device you own, or one that's provided to you for the purpose of working with it? Your employees want to make sure that their devices stay updated and in tip-top shape, so it makes sense that they'll take care of this maintenance themselves, rather than having to resort to your IT department handling it. Your IT department, if you have one, can instead spend time innovating and integrating new solutions that can save your business money or streamline operations.
Risks Presented by the IoT
Even with the major benefits of BYOD, there are a number of risks involved with implementing it, including the Internet of Things. Your business handles sensitive data on a daily basis, and having countless Internet-connected devices that communicate with each other near your data is a recipe for disaster. Devices included in the Internet of Things are smart building components, like thermostats and light fixtures, smart appliances, and even smart automobiles.
The main issue presented by the IoT is security. If any IoT devices that has access to your network were to become corrupted or infected by a virus, it could potentially spread to your entire data infrastructure. While this might be a worst-case scenario, and it's not like you should have to worry too much about a Fitbit fitness tracker bringing down your company, it's still imperative that you take into account everything that accesses your network, and know if it's storing data and who's controlling it when dealing with any and every mobile device in the office.
BYOD is helping businesses all over the world embrace a more mobile industry, and you can take advantage of it, too. Computerware can help your organization manage the risk associated with BYOD and the IoT by integrating mobile device management solutions, and by helping you prepare yourself for the inevitable arrival of the Internet of Things.
For more information, give us a call at (703) 821-8200.